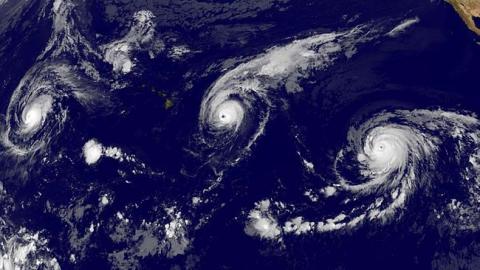 As per a new picture caught by the National Oceanic and Atmospheric Administration satellite, Three Category 4 typhoons are drawing closer the Pacific Ocean. All the three typhoons - named Hurricane Kilo, Hurricane Ignacio and Hurricane Jimena - are drawing closer the ocean at the same time.
The picture of the three typhoons moving toward the Pacific was released by NASA. Despite the fact that the picture gives off an impression of being calm and peaceful, its clarity portrays the monstrous measure of risk that the circumstance poses to Japan, Hawaii, Taiwan and the Philippines. As indicated by the U.S. Climate Channel, this is the first time in the history that three tropical storms are drawing closer in the same time have been caught by a satellite.
While Hurricane Ignacio is presumed to hit the north of Hawaii in the first week of September, the island has begun to make the precautionary measures to overcome the high winds. The manner of the tropical storm is likely to bring heavy rainfall and a six-meter ascent in the level of the ocean nearby the state.
Hurricane Jimena is presumed to go through somewhat a long way from Hawaii amid the mid of the first week of September. On the other hand, specialists are not certain about the way of the tropical storm and say that it may really deviate from what is being estimated. Then again, Hurricane Kilo will likewise stay one of the significant typhoons amid the week; despite that, thankfully it is securely situated in the open water.
The presence of the three typhoons together has been connected to the El Nino impact. As per The Australian Bureau of Meteorology, a one-degree higher temperature than the normal has been estimated in the eastern a half of the northern Pacific Ocean and additionally the Indian Ocean. In the coming weeks, the temperature is presumed to get considerably higher than the top anomaly temperature saw amid 2002 and 2009 El Nino.